Regular price
Sale price
CHF 360.00
Unit price
per
Sale
Sold out
18/01/2023 Update: all kits sold by PMB include the new "spring isolator" for easier assembly
The most advanced fork coil spring on the market
Smashpot is a fork coil spring conversion system for single crown enduro forks, featuring externally adjustable hydraulic anti-bottoming technology to deliver precisely the amount of bottoming resistance you need. The benefits of coil are clear: if your first priority for your fork is outright performance and grip, get yourself a Smashpot.

Also available with as a service+upgrade pack
View full details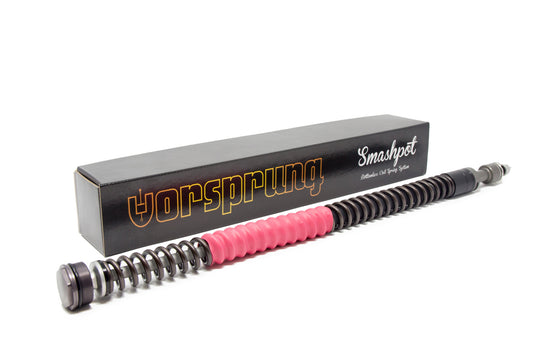 Features
Catering to rider weights from 45kg (100lbs) to 125kg (275lbs) with 11 coil spring rates
Allows lighter riders to get the most use out of their forks, and heavier riders the support they need without excessive air pressures
Only coil conversion system on the market allowing 180mm travel (Please note that

190mm is not possible with the Zeb)

Easily adjust your travel with internal spacers (please note the minimum & maximum travel of your fork as determined by manufacturer)

Unique Hydraulic Bottom-out System reduces harshness
Can be transferred between different forks with minimal parts /cost (a purchase of a new top cap or foot stud)
Reliable and low maintenance, set and forget. User installable and serviceable
Weight increase of approximately 250-450g (dependent on spring rate and fork's existing spring system)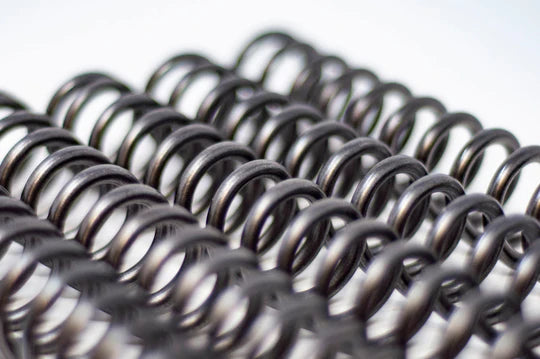 Why Coil?
Air springs have improved substantially over the years - and we've been at the forefront of air spring development for years, so we've got no bridges to sell you. Yeah, coils are heavier than air, and for some riders that alone is a dealbreaker - fair enough. The advantages of coil springs, however, are clear:
Zero stiction or friction in a coil spring. And no moving seals in the spring system to wear out, cause friction or leak.
Zero spring rate variation allowing more mid-stroke support and consistency.
More oil in the fork - lubrication and service life are improved.
In short, improvements in sensitivity, grip, compliance, mid-stroke support and consistency, with reductions in harshness and hand pain.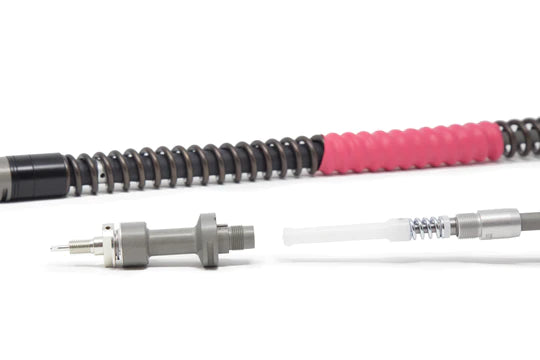 Externally Adjustable Hydraulics
Low weight aside, air springs outperform coil springs in one critical area: bottoming resistance. The hydraulic bottoming control valve addresses this with a speed sensitive shimmed valve which engages progressively and seamlessly in the last 50mm of travel, bringing the fork to a smooth and controlled stop at the end of the travel. High energy and low energy inputs are effectively managed without harshness. Easy tool-free external adjustment ensures you get as much or as little bottoming resistance as you need at the turn of a dial. Increased stability as energy is dissipated, rather than stored and thrown back at you.
Smashpot: Compatibility
Fork

Year & Specification
Fox 36
2015+
Fox 36 E-Bike

2018+

Fox 36 E-Bike generally have a spring stanchion with thicker wall, limiting compatibility to springs under 65lbsin. Some Fox 36 E-Bike don't have that limitation and can use any spring.


Fox 36 Rhythm
2018+
Marzocchi Z1
2019+
Rockshox Lyrik
2019+
Rockshox Yari
2016+
Rockshox Pike Boost
2014+
Rockshox Pike Non-Boost

2014+

Require a special top cap, available on demand


Rockshox Revelation (35mm)
2018+
Rockshox ZEB

2021+

Max travel 180mm


DVO Onyx SC
2019+
Öhlins RFX36 m.2 / RXF36 EVO / RXF38
Öhlins RFX36 m.2 / RXF36 EVO / RXF38
Öhlins RFX38 m.2
Öhlins RFX36 m.2 / RXF36 EVO / RXF38
ATTENTION
DO NOT configure the Smashpot to exceed manufacturer-specified max travel. If in doubt, call the original fork manufacturer to determine maximum permissible travel.
NOT COMPATIBLE
32mm forks

34mm forks
Fox 40
Rockshox 35 Gold/Silver
Rockshox Pike 26"
Boxxer
Any other fork

Installation
Fox / Rockshox / Marzocchi
Copyright texte: PMB Suspension. Pas de reproduction sans autorisation.